A broad range of video editing expertise at your service
Professional Video Editing Services That Go Beyond
Messaging that wins.
Use optimized script frameworks that have been tested across millions of views and recreations.
Assets you can use.
Use all the design assets from the video across your website, proposals and static ads.
Share everywhere.
Share your video across social media and your landing page.
Looking for a video editing service? Or, maybe you want to hire a professional video editor? At Increditors, we are a qualified and experienced video editing team that can provide you the post-production support you need.  
No matter the type of video you create, post-production is where it all comes together. Without the right editing, your raw film will likely miss out on many grounds. It might fail to convey the intended message, deliver the required impact, achieve the desired outcomes, or all of those!  
With the assistance of expert video editors like us, a raw footage transforms into a spellbinding production. Our team is passionate and skilled in handling all sorts of video production that you can image, from films and documentaries to commercials, product advertising, social media videos, and much so more. Therefore, it doesn't matter if you are a video production company, a filmmaker, a marketing agency or even a business with video editing needs, our professional video editing services fit right in with your requirements.
With access to the best-in-class equipment and software, we are confident in our video editing services to tell the story that you want, told in your vision and style.   
Alongside our video editors, we also have artists, animators, motion graphic specialists, and sound engineers onboard that can elevate your production with animations, graphic effects, sound effects, overlays, etc.
Our Video Editing Services
Our stunning, efficient, and timely video editing can be utilized in countless ways. While there's no limit to our video editing expertise, here are some areas where we shine.
Increditors,has some,Incredible Editors
Contact us to watch our privet color grading showreel!
Video color grading services take your videos to a whole new level of visual performance. From fixing white balance and exposures to grain enhancements and tone balancing, our video color correction services cover everything that you need.
From wedding videos to cinematic highlights to full-length films, every type and format of wedding videos come alive in the hands of our expert video editors. Our wedding video editing turns every footage into a beautiful story of a perfect wedding day, bringing the focus where it matters the most: Emotions.  
Take your music to the hearts of the audience with professional-grade music videos, edited with finesse, attention-to-detail, and creative expertise. We are experienced in editing music albums, concert films, and music event footages in a way that captures the soul and vision of a musical artist.
Increditors have proven valuable to hundreds of companies when it comes to creating and promoting applications, software, products through promo videos. Target millions of worldwide smartphone users on social platforms with our snappy promo videos built for your brand.
Get professional YouTube & Podcasts video editing services for your content to outshine the competition and get all the attention from audiences around the globe. With our professional post-production for video podcasts, your content can rise to the ranks it truly deserves.
If you want to get all the attention from fans, a sports video editing agency comes in handy. High-quality editing of your sports videos makes your work reach more audiences and keeps them interested.
Increditors is one of the leading VFX outsourcing companies and an established name in the video post-processing world. Backed by a team of highly skilled and experienced VFX editors, we boast a long list of delighted clients from all around the globe.
As one of the leading sound design companies, we work with skilled audio engineers and sound editors who have been in the game for a long time. We take pride in our loyal clientele ranging from regional small businesses to multinational corporations and film studios spread around the globe.
Whether it is spreading the word for a newly-minted company or reinforcing consumer trust in an established business; whether it's about selling a positive image or delivering a heartfelt brand message, our corporate video editing services can help you achieve any purpose and goal with absolute perfection.
The use of videos has become one of the most effective marketing strategies of all time. We can edit any and all type of marketing videos — be it for promos, product demos, branding and sales pitch, customer support videos, YouTube and other social media videos, and many more.   
Educational/ Training videos
Nothing compares to the power of videos when it comes to communicating an idea — no matter how complex it is — quickly and efficiently. Our professional video editing services are excellent for online courses, e-learning tutorials, corporate communication, staff training and more.
Editing of films and documentaries needs to be done with the big picture goal of keeping the audience hooked till the very end. Our film editing services at Increditors include sequencing, color correction, filters, enhancement, voiceovers, sound effect, subtitling, narration, and more.
Large Company or Enterprise?
Get in touch to discuss your project.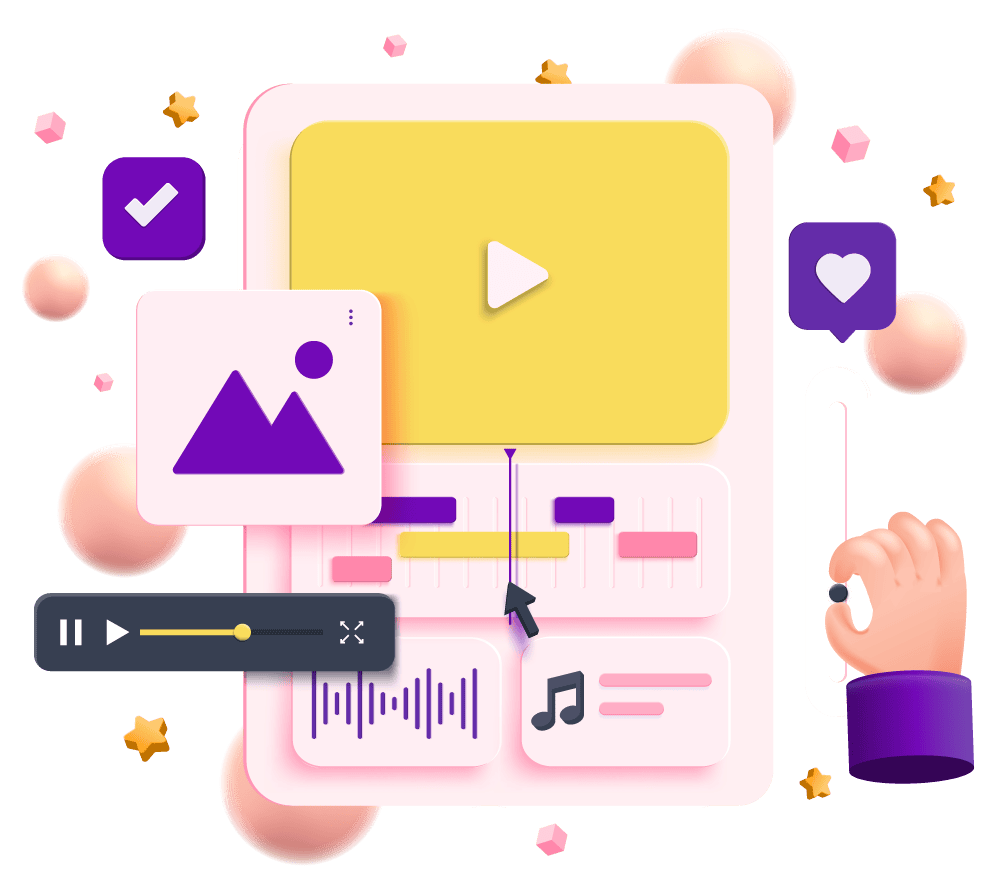 Typically, video editing cost is calculated on the basis of the source footage to editing time ratio and the cuts finished per minute. But it's quite impossible to specify the accurate cost of a video editing project without knowing exact requirements. If you need an estimate, let us know and we'll be happy to send you one free of cost.
If you are not convinced yet, ask yourself, how much is a house?! Is there any specific answer for that?!
Our editing suites are well-equipped with the best editing technology and latest software including Adobe Premiere Pro, Adobe After Effects, Final Cut Pro, Avid Media Composer, DaVinci Resolve Studio, among others.
We deliver all our videos in the most commonly used and widely supported video formats like MP4, MOV, WMV, AVI, etc.
Sure! We do our best to help clients with all and every type of raw file and video format. We have conversion tools that can help us crack an odd video. But, if we can't, we most likely know someone who can do it for you.   
We're committed to your satisfaction and therefore, we'll roll up our sleeves and get down to it until you're 100% happy. But in the rare situation where you're still not happy with end result, we will sit down with you again and recheck the scope and deliveries and come up with new idea/solution.
Be inspired.
By clever companies that are winning with explainer videos
Full Service Agency
"Increditors is a stellar video editor agency, so much so that we've now worked with them for over 2 years. Their reliability, communication skills, creativity, and software skills make them a truly positive contributor to our company culture. We're honored to work with them and proud to call them a Rhythm Monster Partner! "
3D Animation Quality
"5 stars design agency! If anyone wants an example of what you can achieve with this company, check out my site at Marsdigital.co.nz."
The Most Extensive Outsourced Video Editing Services
Your search for the most comprehensive video editors ends here.  
Wedding Films
Cinematic Highlights
Speech & Ceremony Reels
Brand Films
Corporate Documentary
Corporate Interviews
Trade Show & Exhibitions
Conferences & Seminars
DJ & Music Concerts
Gaming Videos
Films
Documentaries
Long Play Edits
Music Videos
Commercial Ads
Infomercials
Social Media Ads
Brand Promotion Videos
Social Media Promo
Product Demo
Website Video
Sales Pitch Videos
Training Videos
Product Reviews
Testimonial Videos
Software/App Promo
Video Tours Realtors
Drone Video
Video Tours for Guides
Video Travelogues
Travel Documentary
Travel Vlogs
Online Course
E-Learning Tutorials
Videos for Schools, Colleges & Universities
Home Videos
Vacation or Holiday Videos
Family Videos
YouTube Video Editing
Vlog Editing
IGTV Video Editing
Why Outsource Video Editing?
Video editing and post-production is a vital step in your production process. But you might wonder — why do you need to outsource your video editing to someone else? It's a valid question, the answer to which lies in your business objectives.
First of all, it's a smart business choice. No matter how impressively executed, your raw footage is hardly ever in sequence. The shooting rarely happens in the order in which the frames are to be presented. It is often done in a way that's most efficient in terms of scenes, location, availability of performers, and other factors. The unedited film won't make any sense to viewers, while simply clubbing together your raw footage doesn't tell a compelling story. You need to spend hours and resources in getting your post-production right. After all, the final, sleek finish makes a world of difference.
However, post-production can be time-consuming; even more so unless video editing is a part of your core business. The cost of training and maintaining an in-house editing team can be huge. This is why so many video producers worldwide choose to outsource video editing services.
Outsourcing your post-production needs gives you the access to the very best video editing services like we offer. Our Video Editing Company specializes in every post-production trick and tactic in the book and our experience spans across industries so we understand what works for an audience in a specific business sector.
Our commitment to perfection, transparent and no-nonsense attitude, and a purely value-driven approach combine to make us one of the best professional video editors in the business that pull out all stops to produce high-quality post-production results in reasonable budget.